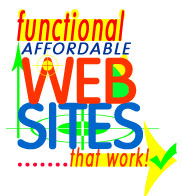 Sharyn Peacocke is an Australian website designer and writer dedicated to quality and customer service. Offering a friendly, professional web design and site building service with emphasis on carefully keyworded text and smart, eye-catching design, she caters to clients in Australia and overseas: web site design, web hosting, domain name registrations, web site maintenance, copywriting and Facebook pages ... all delivered creatively, promptly, and efficiently. Sharyn is based on Sydney's northern beaches and Queensland's Sunshine Coast hinterland.
Spectacular! I could go on with a plethora of adjectives and none of them could truly describe what your creativity brought to my web site, Sharyn.... Sitting half way around the world made absolutely no difference to the personal care and involvement you brought to my project." more ...
"My website sure needed updatin
As no-one was looking for Leighton
But when Shaz came along
To revamp my song
To say things improved's understatin." more ...
"From the moment I first spoke with Sharyn I knew that she was exactly the kind of designer I was looking for. Her knowledge in this unique field, patience to detail and prompt resolutions to my requests more than exceeded my expectations." more ...
"It is a great pleasure to work with Sharyn Peacocke. Her service is professional, quick, creative and as a person she is receptive, patient and fun to collaborate with. Nothing is too much trouble." more ...
"WOW! Thank you for creating a website that exactly reflects the peaceful yet vibrant ambience of our new luxury holiday accommodation." more ...
"We are new both to the Sunshine Coast Hinterland and the world of web and were delighted to have found Sharyn to help put us on the 'map'." more ...
• Functional reliable websites that work

• Full-featured web hosting plans

• Global and Australian domain names

• Read testimonials

• View portfolio

Comment from Sharyn:
I empathise with small business operators and work hard to ensure that every dollar you invest in your website production is well-spent.
I've been writing professionally for more than 20 years and designing websites since 1998. My clients, many of whom have become friends, include tourist operators, performers, artists, writers, photographers, spiritual workers, motivational speakers, culinary experts and providers in the services industry. I love my work!
Please feel free to explore my website. Along the way, click my website banner to return to this page.